There are rumours that Mohanlal is playing wrestling Champion The Great Gama in Lijo Jose Pellisery's 'Malaikottai Valiban'. He took Indian wrestling to International heights. Gulam Muhammad Baksh Bhatt remained unbeatable in his field for nearly 50 years. Anyway looks like Mohanlal fans are ecstatic to hear this news. Recently the makers of 'Malaikottai Valiban' released the title of the film shrouded in suspense. In the middle of this, we are hearing the news that Mohanlal is playing the indomitable wrestler Great Gama of British India.
There are reports that 'Malaikottai Valiban' is set in the 1900s. The location still hints that the film is set during the time of British rule in India. The shooting of the film started at Rajasthan's Jaisalmer on January 18th this year. After shooting there for a month, they have started a 20-day schedule at Pokhran in Rajasthan. They will once again shift to the Jaisalmer location after the Pokhran schedule. This big-budget film's story is by Lijo Jose Pellisery and the screenplay is by PF Rafeek.
Gulam Muhammad Baksh Bhatt was born into a family of wrestlers in Kashmir. He later came to be known as wrestling champion Gama. Though he learned strength training in traditional Godha or Gatta gusti, his first career breakthrough was while participating in the 1888 Strong man competition at Jodhpur, Rajasthan. Though there were over 400 wrestlers and famous champions, 10-year-old Gama was the show-stealer. Though Gama came in the last 15, taking into consideration his age, Jodhpur King declared him as the winner.
Later on, Gama's life took an incredible turn. It is said that the legendary Bruce Lee was inspired by the training methods of Gama and also incorporated many aspects of it into his regimen. Gama who has faced a violent crowd singlehandedly has ruled Godha without any competition for over 50 years. It is said that during the India-Pakistan partition, Gama rescued a lot of Hindus stuck in Lahore and transported them to India by using his own money. History says that after ruling Godha for 50 years he retired without any competition.
That Mohanlal is playing the Great Gama in 'Malaikottai Valiban' has excited Mohanlal fans and moviegoers. They are waiting to see yet another Lijo Jose Pellisery magic on screen.
A wrestler who was idolised by the great Bruce Lee (What Adarsh Madhavan wrote about Gama in Manorama)
Can you keep a 1200 kg rock on your chest? There is a wrestler in our country who lifted such a heavy rock from the ground, kept it on his chest, and walked! That champion wrestler participated in several small and big tournaments and remained undefeated in the world history of wrestling. That legend was The Great Gama or Gulam Muhammad Baksh Bhatt. When you know that this wrestling star was idolized by the martial arts God Bruce Lee you might be able to guess his greatness.
Recently, on his birthday, Google paid tribute to him by including a doodle on the search engine. People searched Google to confirm whether he really carried the 1200 kg of stone or if was it a myth, as well as to know if the undefeated wrestler of the world was an Indian! People believed the story only because the name was included on the Olympic Committee website itself.
Apparently one of the biggest attractions of the Baroda museum is the stone that he lifted. Locals claim that it is difficult to believe that someone is able to lift such a heavy stone with his bare hands. It was in 1902 December 23rd that Gama lifted the stone to showcase his strength in front of the King. He was only 22 years old. Google doodle has a picture of Gama standing 5.7 feet tall, weighing 118 kg carrying a mace. And Gama appears at competition venues carrying that mace. Even that silver mace has a story behind it. It is said that the mace was gifted by the King for his superhuman power.
Gama was born on May 22nd, 1878, in India before the partition. Born in a family of Kashmiri wrestlers, Gama was born in Jabbowal village in Amritsar district, Punjab. Due to his family background, Gama grew up around traditional akhadas (wrestling grounds). From a very young age, he started training at akhadas. He first shined at a wrestling competition held in Jodhpur in 1888. In that competition that had over 400 participants, 10-year-old Gama became the star. Gama ended the competition in a tie with many others and won several matches. But he didn't suffer a single defeat. When he came in the last 15, Jodhpur King proclaimed him the winner. It was the 10-year-old's strength and competitive spirit that led to such a decision. Gama was also able to win over the friendship of the Kings of Datia and Patiala who had come there to witness the match.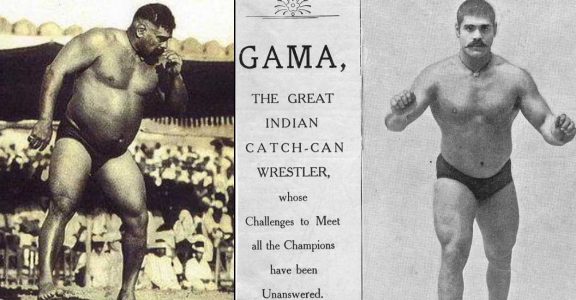 After this Gama's training expenses were taken up by the King. His food habits were quite famous. He used to blend 9 kg of ground almonds with 15 liters of milk and consume it daily. And he would have 3 kgs of butter, mutton, and 3 baskets of fruits every day. He would balance the diet by doing 5000 sit-ups and 3000 push-ups per day which helped in strengthening the body. That apart he would have training competitions with 40 wrestlers at the Akhada regularly. You can perhaps perceive his greatness by looking at his longevity in the field of wrestling which lasted for 52 years. The legendary Bruce Lee was his fan. Lee has often said he has been able to discipline his lifestyle by borrowing Gama's training programmes and food habits. By 1985 Gama had defeated all the greats of this game and remained unbeatable. At that time, Gama was popularly known as Rustam e Hind. After defeating the then strongest Rahim Bakhsh, Gama came to compete on the world wrestling stage.
But at the London wrestling venue, no one showed much interest in the young Indian. They were not ready to compete with the short young man. A heartbroken Gama made a public challenge on the stage. He invited wrestlers from any category to fight with him. Gama also claimed that he would finish the match within 30 minutes. But they still avoided the 'little boy.' Finally, American Wrestler Benjamin Roller aka Doc agreed. The match was finished in two rounds. In the first round, the American was finished within 1.40 minutes and Gama finished the second round in 9.10 minutes. And the little boy became a star there. The very next day he consecutively defeated 12 wrestlers. On that tour, Gama faced Poland's Stanislaus Zbyszko, who was the world champion. In the John Bull belt match, Stanislaus was taken down one minute earlier, but a foul was called. The match resumed later and lasted for 3 hours. It is the only time in Gama's history that a match against a world-class competitor has lasted that long.
Though 2 rematches were announced since competitors didn't arrive, Gama was declared champion. In 1927 Stanislaus came to Patiala to compete with Gama. The match ended in under 1 minute. Gama proudly stood at the venue as a winner. Gama later defeated many famous wrestlers of that time. Swiss star Maurice Deria, Joanne Lemm, and European champion Jess Peterson all lost to Gama. Gama challenged Japanese judo champion Taro Miyake, Russian wrestler George Hackenschmidt, and American great Frank Gotch for the world title, but none of them were ready to compete, so Gama became a real hero. Having said that, the most challenging opponent Gama faced was an Indian. He was wrestler Rahim Bakshi. In 1929, Gama officially entered the last competition. He returned by defeating Jess Peterson. In fact, that career ended there because no one was ready to compete with Gama fearing defeat.
Gama shifted to Lahore after India's Independence. He lived in an area where Hindus lived. When they were a planned attack against them, it was Gama and his friends who stopped them. The attackers fled when Gama stood before them. It was Gama and his friends who successfully helped them reach the Indian border. On May 23rd 1960, Gama died.